Landscaping Services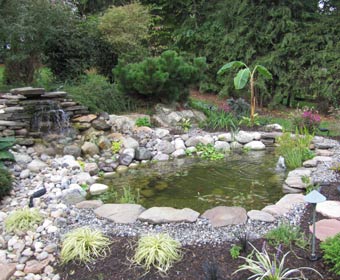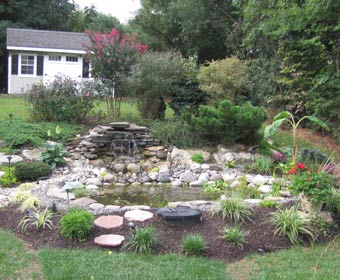 Landscaping, hardscaping (patios, walkways, outdoor firepits) landscape maintenance, lighting, fencing, pond installation, spray programs (for diseases and protection), lawn programs and tree removal.
Designing & Consultation
Our emphasis on "a low maintenance approach that accomodates future plant growth and incorporates seasonal colorin the design. We work closely with our customers incorporating their needs along with providing our professional input.
Installation
We emphasize plenty of room for growth and select varieties that are easy to maintain . As with all landscapes it is a coordinated approach combining many different aspects from planting, hardscaping, lighting & other services.
Planting
We stock thousands of plants from evergreens, flowering shrubs, perennials, annuals, water plants, and many others assorted items
Hardscaping
We install an assortment of materials from pavers (EP Henry,Cambridge, Techo-Block, CST, & others.

Installation of bluestone walks & patios

Brick walks ,patios, & retaining walls

Walls: Natural boulders,block paver walls, veneer stone walls, & others

Lighting Programs
We install low voltage lights emphasizing one's landscape setting. All our lighting comes in many styles,colors & different applications.



Irrigation Programs
We use both above ground heads concentrating on specific areas with an emphasis on the many different plant & lawn needs.
Low pressure drip applications along with seasonal planting areas.
Specialized work
We offer many services such as annual plantings, perennial gardens and formal gardens such as "williamsburg-stye",
Built-in barbecues and firepits.
Ponds & waterfalls along with pond less waterfalls
This FREE program is geared toward the homeowner who wants to get dirty.
We provide the sketch you provide the labor. But there's more...
We stop over your house, lay everything out, give you Planting instructions & lots of tlc.
But don't worry we won't let you make mistakes
Tree and shrub planting
If we plant your tree or shrub it will be guaranteed for one year. (If you plant, our guarantee is for 6 months.) A bag of mulch or stone is included along with an application of peat moss if you have clay soil. We will come out for free and give you free estimate for planting if necessary.